Our People
LODGE MANAGERS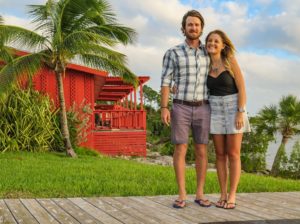 Christiaan Pretorius
Christiaan has been a fulltime Fly fishing guide for the past 6 years. He has guided some of the most remote fisheries on the planet including Seychelles, Russia etc. He has also competed in 7 World Fly fishing championships and is without a doubt a Fly fishing addict. He is very passionate about introducing his passion to other eager fisherman.
Lindi Blaauw
Born and bred in the Namib Desert, Lindi started joining Christiaan on his adventures a year ago. Since then has worked in South Africa, Seychelles and Russia. She will be giving you a warm tropical welcome, answer all your questions you may have and make sure all your expectations are met.
OUR GUIDES
Paul
Trevor
Travis
Freddy
Paul Pinder / Head Guide
Paul is the real deal Abaconian with close to thirty years of experience on the water. He believes that being able to work in the Bahamas is a real blessing and truly enjoys being on the water with new people. His very calm approach to guiding makes him a great teacher and guide.
Trevor Miller
Trevor has been in the Abacos for more than fourteen years and has been a fulltime guide since 2012. Not only an exceptional guide but also very talented carpenter. Trevor especially enjoyes being able to show his guests the Bahamas and share his passion for fly fishing.
Travis Sands
Travis was introduced to guiding at a very you age by his dad, who is a veteran guide at Bairs Lodge. He is by far the most energetic and enthusiastic of the guides. Extremely passionate about His job and without a doubt a great asset to the team. This is his fourth season at Abaco Lodge.
James 'Freddy' Dames
Freddy hails from South Andros and is the newest addition to the guide team. Don't let the word "new" fool you as Freddy has been on the water as a guide for more than 18 years. He has a wonderfull outlook at life and has a very positive attitude. It's not uncommon to hear Freddy sing.
OUR HOUSE STAFF
Sidneka
Velma
Marie
Paige
Cialin
Sidneka Munroe / Chef
Originally from New Providence, Sid has been the head chef at Abaco lodge for the past 2 years. She acquired a culinary arts degree in North Carolina and therefore takes a lot of pride in what she presents on a plate. Not only is her dishes visually stunning but delicious at the same time.
Velma Strachan / House staff
Velma has been in and around the Abacos her entire life. She is one of the original staff at Abaco Lodge from 2009. What she loves about Abaco the most is the fact that her entire family also resides on the island. Velma is exceptional at ensuring that her guests are given the best service.Velma will anticipate a guest's every need before they even know it.
Madjorie 'Marie' Mills / House staff
Marie has been in the Abaco for close to thirty years. She started working at Abaco lodge in 2010 and is a great asset to the team. Marie works the morning shift and will make sure you have a good start to the day. Marie is also a great help in the kitchen with some amazing bread recipes.
Paige Walker / House staff
Originally from Abaco, Paige as been working at the lodge for the past two years. She especially loves the Bahamas for the natural beauty as far as weather, beaches and peacefulness. Paige chose to follow this career as she loves meeting new people and loves the adventure. She is a very valuable asset to the team.
Cialin Dany / House staff
He has been at Abaco lodge for close to two years. He is a very important part of the team in ensuring everything is in perfect shape around the lodge. As a qualified mechanic, Cialin also makes sure that all the boats are running smooth. He's dream is to become a guide, with his positive energy and great personality it's not long before you might spend a day with him on the water.