Our People
LODGE MANAGERS
Jake Wood & Morgan Bentley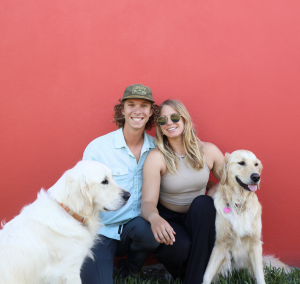 Jake and Morgan met in The Bahamas, where their shared passion for the ocean, fishing, traveling, and the outdoors brought them together. Morgan was born and raised in Key West, Florida, and has spent the last couple of years working as a stewardess on Sport Fishing Yachts. Jake was born in Austin, Texas, and has been fly-fishing since he can recall. He has 3 generations of family history in the Abacos and spent the last year overseeing the rebuild of the Lodge. Joined by their two golden retrievers, Hank and Tula, rest assured they will show you a good time and make you feel right at home.
OUR GUIDES
Paul
Trevor
Joe
Al
Paul Pinder / Head Guide
Paul is a real-deal Abaconian with close to thirty years of experience on the water. He says being able to work in the Bahamas is a blessing and truly enjoys sharing time on the flats skiff with new people. His patient approach and kind nature make him a great teacher, leader, and guide. If permit is on your bucket list, let Paul know, and let the hunt begin.
Trevor Miller
Trevor has been in the Abacos for more than fourteen years and has been a full-time guide since 2012. He's also a highly skilled carpenter. Trevor enjoys showing guests the wonders of the Bahamas while sharing his passion for bonefishing. Trevor loves tarpon more than any other guide in the Bahamas. If the silver king is your target, Trevor is the man with the plan.
Joe Bodie
Joe lives in the Southern settlement of Crossing Rocks here on Abaco. He has years of experience chasing bonefish across all of the different areas the Abacos have to offer. When Joe is not fishing with us, he's fishing for himself. The ocean-side flats have a special place in Joe's heart. Weather permitting, Joe can show you a whole new world of flats.
Al Russell
Al resides in the farthest southern settlement on Abaco, Sandy Point. Al has been fishing the vast expanses of the Marls for decades and always knows how to show guests large numbers of bonefish. Al loves good boat conversation and bring unique stories and experiences to the poling platform.
OUR HOUSE STAFF
Emilio
Marie
Nola
Grenda
Terrinique
Kajah
BJ
Emilio Jaramillo / Chef
Emilio was born in Venezuela but moved to Buenos Aires, Argentina in 2015, where he perfected his culinary skills and fell in love with the world-famous Argentinian Asado. He's worked in the most prestigious catering services and hotels around the country and last year he joined Nervous Waters, bringing his skills to our Northern Patagonia and Pirá Lodges. Emilio will serve you the most exquisite dishes from around the world. You are in for a treat!
Madjorie 'Marie' Mills / House staff
Marie hails from Long Island but has now been in the Abacos for more than thirty years. She started working with us in 2010 and knows the lodge like no one else. Marie works the morning shift and prepares lunch for our guests. Her bread recipes are to die for.
Nola Mills / House staff
Nola is Marie's daughter and was born in Marsh Harbour. She's worked over the past 9 years for a boat chartering company and is a true team asset to the lodge, keeping all areas in tip-top shape for our guests. During her free time, she enjoys fishing, swimming and relaxing on the beach.
Grenda Russell / House staff
Grenda comes from Sweeting's Cay, Grand Bahama Island and has been working in the lodge world for several years now. Grenda started at Deep Water Cay Lodge almost a decade ago and recently moved to Abaco to be with family and promptly joined our team. Grenda is the epitome of a service professional and we are proud to have her serving you.
Terrinique Stuart / House staff
Terrinique is a native of Moore's Island, Abaco. She is currently pursuing a career as an office assistant and has over 3 years of experience in the food and beverage industry. She is a passionate service-oriented person and loves tending to our guests' needs.
Kajah Pinder / House staff
Kajah is from a small settlement in South Abaco called Sandy Point. She is passionate about cooking, housekeeping, and making everyone around her happy and comfortable. At the lodge, she helps with our dinner service. With over 3 years of experience in the hospitality industry, she aims to become an executive chef in the near future.
Bermann Joseph / Maintenance
"BJ", as we all know him, was born in Abaco and helped us out in the reconstruction of the lodge since we started working over a year ago. Now he is responsible for ensuring the lodge and its surroundings are in perfect shape. BJ is the funny guy on our team, always bringing a dose of laughter to work. He loves spending time and playing with his new Pitbull puppy, Hunter.